Cardboard Corner Protector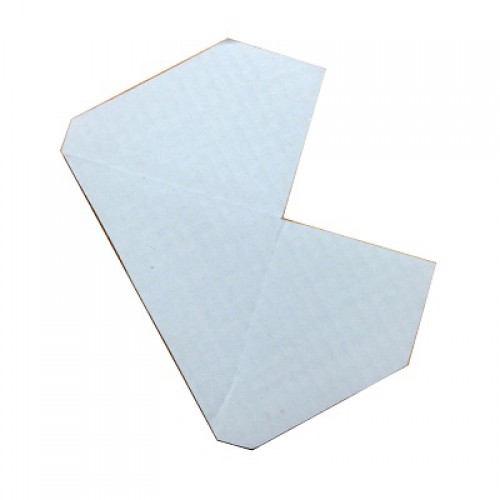 ---
Ideal for protecting Frames, Canvas & Art Works
---
Mass range of sizes to suit (FREE Sample Packs Available)
---
Competitive pricing as we produce all our own Cardboard Corner Protectors
---
Stock lines, next day delivery
---
Cardboard Corners are a must have within the Picture Framing industry as they are used to protect not just frames but canvas, artworks and more.
We offer a large selection of Cardboard Corner Protectors which are produced from a 1.4mm thick white faced flute board.
These are supplied flat in sheet format, ready to easily press out and fold into shape for your job. Each pack contains 50 sheets. As we are manufacturers we can produce bespoke sizes specifically for any of your requirements.
If you are unsure on which size is most suitable for your project please contact our Sales Account Executives for your FREE sample pack, which includes a sample of each of our Corner Protectors for you to test and evaluate, to find the best for your application – sales@ukindustrialtapes.co.uk
F1WHITECORNERPROTECTORS
White
14mm Inside Depth
F2WHITECORNERPROTECTORS
White
18mm
F3WHITECORNERPROTECTORS
White
18mm
F4WHITECORNERPROTECTORS
White
23mm
F5WHITECORNERPROTECTORS
White
17mm
F6WHITECORNERPROTECTORS
White
37mm
F7WHITECORNERPROTECTORS
White
14mm
F8WHITECORNERPROTECTORS
White
50mm
F9WHITECORNERPROTECTORS
White
36mm
F10WHITECORNERPROTECTORS
White
Max 45mm
F20WHITECORNERPROTECTORS
White
21mm